New Life for Old Tubs
We offer a range of services to help restore bathrooms and kitchens. When refinishing these surfaces it brightens up your home or apartment to give a clean, new appearance. We can completely refinish an entire area or repair individual spots or cracks.
When surfaces like bathtubs start to show their age, owners are often tempted to replace them altogether. But by providing skilled, professional bathtub refinishing services, we can save you up to 70% or more of the cost of replacement. Our refinishing services include:
Bathtubs
Sinks
Ceramic Tile
Shower Stalls
Cultured Marble

Porcelain
Fiberglass
Clawfoot Tubs
Counter Tops
Chip Repairs
The Value We Provide
When it comes to worn looking or outdated kitchen or bathroom fixtures, you only have 3 choices. 1) Live with the hard to clean surface 2) replace the bath or kitchen fixtures, or 3) Have them renewed, repaired or recolored with the Divine Coatings refinishing process. Of the three available, it is no wonder why ours is the right choice. Why you may ask? (see below)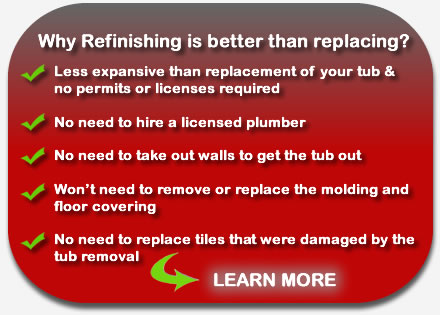 The "Old School" method of grinding or sanding your surface and using toxic chemicals is a thing of the past. Our process and chemicals are safe. Using the Divine Coatings Process as your overall remodeling plan will save you a lot of unnecessary costs that will allow you to upgrade many other areas. Why wait weeks for the replacement of your bathtub? when you can modernize your bath or kitchen by refinishing in only a few hours?